Overview
We recognise that recruiting permanent staff is not always the right solution for your business. Temporary staff members can offer greater flexibility, cost effectiveness and shorten the time taken to recruit.
On behalf of a range of employers, we have recruited for roles in the employment services, vocational education and training, allied health, disability and community services sectors throughout Australia since 2007. Through this work we have developed an outstanding pool of temporary staff who are pre-vetted and ready to take on short, medium and longer-term assignments.
Our approach
Our experienced team will work closely with you to understand your requirements and crucially the ethos and experience required in the individual. We will rigorously pre-screen and reference check suitable candidates and provide you with a shortlist for you to select from.
Our experience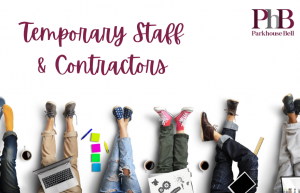 We can provide you with high quality candidates, to support your business in the following situations:
New contract wins / project implementation / pilot project delivery
Short to medium term increases in business needs / seasonal fluctuations
Secondments / contract wind down
Maternity / paternity or other extended leave
We provide temporary staffing support across a wide variety of roles including:
Business Managers
Trainers
Business Development Staff / Administrators
Sales Executives / Receptionists
Employer Engagement Staff / Call Centre Operatives / Employment Consultants / Accounts Staff
Many of our temporary staff have become permanent employees and working in this way offers an excellent opportunity for both employers and candidates to get to know each other before making a longer-term commitment.
To discuss your search please contact us directly on +61 7 3532 4050 or by e-mailing info@parkhousebell.com.au